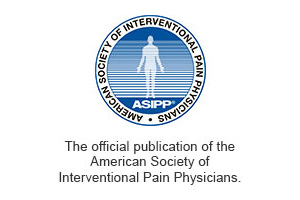 Editor-in-Chief: Alan David Kaye, MD, PhD
Managing Editor: Bert Fellows, MA
Pain Physician is the official publication of the American Society of Interventional Pain Physicians (ASIPP). The open access journal is published 6 times a year.

Pain Physician is a peer-reviewed, multi-disciplinary, open access journal written by and directed to an audience of interventional pain physicians, clinicians and basic scientists with an interest in interventional pain management and pain medicine.

Pain Physician presents the latest studies, research, and information vital to those in the emerging specialty of interventional pain management – and critical to the people they serve.
---
OPIOID Guidelines IPM Guidelines Facet Joint Guidelines Regenerative Medicine Guidelines Risk Stratification Guideline Antithrombotic Guidelines Sedation Guidelines
Current issue highlights: (September 2020, Volume 23, Issue 5)
Utilization Patterns of Sacroiliac Joint Injections from 2000 to 2018 in Fee-for-Service Medicare Population
Health Policy Review
Laxmaiah Manchikanti, MD, Maanasa V. Manchikanti, ., Rachana Vanaparthy, MBBS, Radomir Kosanovic, MD, and Vidyasagar Pampati, MSc.
A Burden and Prevalence Analysis of Chronic Pain by Distinct Case Definitions among Active Duty U.S. Military Service Members, 2018
Cross-Sectional Analysis
Hunter Jackson Smith, MD, Stephen B. Taubman, PhD, and Leslie L. Clark, PhD.
Comparison of Spinal Cord Stimulation Waveforms for Treating Chronic Low Back Pain: Systematic Review and Meta-Analysis
Systematic Review
Jay Karri, MD, Vwaire Orhurhu, MD, Sayed Wahezi, MD, Tuan Tang, MD, Timothy Deer, MD, and Alaa Abd-Elsayed, MD.
Efficacy of Manual Therapy on Pain, Impact of Disease, and Quality of Life in the Treatment of Fibromyalgia: A Systematic Review
Systematic Review
Nina B. Schulze, MSc, Marianna de Melo Salemi, MSc, Geisa G. de Alencar, PhD, Marcela C. Moreira, PhD, and Gisela R. de Siqueira, PhD.
Efficacy of Intradiscal Ozone Therapy with or without Periforaminal Steroid Injection on Lumbar Disc Herniation: A Double-Blinded Controlled Study
Randomized Trial
Tulay Ercalik, MD, and Mustafa Kilic, MD.
The Analgesic Efficacy of Pecto-Intercostal Fascial Block Combined with Pectoral Nerve Block in Modified Radical Mastectomy: A Prospective Randomized Trial
Randomized Trial
Mohamed M. Abu Elyazed, MD, Mohamed S. Abdelghany, MD, and Shaimaa F. Mostafa, MD.
The Efficacy of Scrambler Therapy for the Management of Head, Neck and Thoracic Cancer Pain: A Randomized Controlled Trial
Randomized Trial
Komal Kashyap, PhD, Vishwajeet Singh, MSc, PhD, Seema Mishra, MD, Sada Nand Dwivedi, PhD, and Sushma Bhatnagar, MD.
Ashi Acupuncture Versus Local Anesthetic Trigger Point Injections in the Treatment of Abdominal Myofascial Pain Syndrome: A Randomized Clinical Trial
Randomized Trial
Andreia Moreira de Souza Mitidieri, Pht, PhD, Maria Carolina Dalla Vecchia Baltazar, Pht, Ana Paula Moreira da Silva, Pht, PhD, Maria Beatriz Ferreira Gurian, Pht, PhD, Omero Benedicto Poli-Neto, MD, PhD, Francisco Jose Candido-dos-Reis, MD, PhD, Antonio Alberto Nogueira, MD, PhD, and Julio Cesar Rosa-e-Silva, MD, PhD.
Low Back Pain and Diagnostic Lumbar Facet Joint Nerve Blocks: Assessment of Prevalence, False-Positive Rates, and a Philosophical Paradigm Shift from an Acute to a Chronic Pain Model
Diagnostic Accuracy Study
Laxmaiah Manchikanti, MD, Radomir Kosanovic, MD, Vidyasagar Pampati, MSc, Kimberly A. Cash, RT, Amol Soin, MD, Alan D. Kaye, MD, PhD, and Joshua A. Hirsch, MD.
Opioid Reduction and Long-Term Outcomes in Abdominal Myofascial Pain Syndrome (AMPS): A 6-Year Longitudinal Prospective Audit of 207 Patients
Prospective Review
G Niraj, MD, and Sachin Alva, FRCA.
Interventional Pain Management for Cancer Pain: An Analysis of Outcomes and Predictors of Clinical Response
Retrospective Assessment
Uri Hochberg, MD, Amir Minerbi, MD, PhD, Louis-Martin Boucher, MD, PhD, and Jordi Perez, MD, PhD.
Ultrasound-Guided Peripheral Nerve Stimulation for Shoulder Pain: Anatomic Review and Assessment of the Current Clinical Evidence
Clinical Review
Anthony Mazzola, MD, and David Spinner, DO.