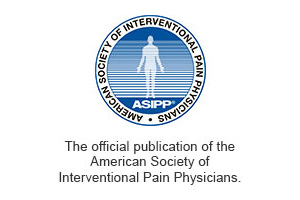 Editor-in-Chief: Alan David Kaye, MD, PhD
Managing Editor: Bert Fellows, MA
Pain Physician is the official publication of the American Society of Interventional Pain Physicians (ASIPP). The open access journal is published 6 times a year.

Pain Physician is a peer-reviewed, multi-disciplinary, open access journal written by and directed to an audience of interventional pain physicians, clinicians and basic scientists with an interest in interventional pain management and pain medicine.

Pain Physician presents the latest studies, research, and information vital to those in the emerging specialty of interventional pain management – and critical to the people they serve.
---
Current issue highlights: (July 2019, Volume 22, Issue 4)
Effectiveness of Percutaneous Adhesiolysis in Post Lumbar Surgery Syndrome: A Systematic Analysis of Findings of Systematic Reviews
Systematic Review
Laxmaiah Manchikanti, MD, Amol Soin, MD, Mark V. Boswell, MD, PhD, Alan D. Kaye, MD, PhD, Mahendra Sanapati, MD, and Joshua A. Hirsch, MD.
Percutaneous Endoscopic Debridement and Drainage for Spinal Infection: Systemic Review and Meta-Analysis
Systematic Review
Yi Mao, MM, Yang Li, MD, and Xingang Cui, MD.
The Relevance of the OPRM1 118A>G Genetic Variant for Opioid Requirement in Pain Treatment: A Meta-Analysis
Systematic Review
Xueying Zhang, MA, Yongxin Liang, PhD, Nannan Zhang, MA, Ying Yan, MA, Shanling Liu, PhD, Hao Fengxi, MA, Dai Zhao, MA, and Haichen Chu, PhD.
Effectiveness of Denervation Therapy on Pain and Joint Function for Patients with Refractory Knee Osteoarthritis: A Systematic Review and Meta-Analysis
Systematic Review
Ran Wang, MD, Chao Ma, MD, Ying Han, MD, Mengjiao Tan, MD, and Lijuan Lu, MD.
A Systematic Review of the Normal Sacroiliac Joint Anatomy and Adjacent Tissues for Pain Physicians
Systematic Review
Amelie J. Poilliot, PhD cand., Johann Zwirner, MD, Terence Doyle, MD, and Niels Hammer, MD.
Efficacy and Safety of Surgical Interventions for Treating Multilevel Cervical Spondylotic Myelopathy via Anterior Approach: A Network Meta-Analysis
Systematic Review
Zhuhai Li, MD, Long Chen, PhD, Bo Li, MD, and Jianxun Wei, MD.
Selection of the Optimal Puncture Needle for Induction of a Rat Intervertebral Disc Degeneration Model
Randomized Trial
Jiale Qian, MD, Jun Ge, MD, Qi Yan, MD, Cenhao Wu, MD, Huilin Yang, MD, PhD, and Jun Zou, MD, PhD.
High-Voltage, Long-Duration Pulsed Radiofrequency on Gasserian Ganglion Improves Acute/Subacute Zoster-Related Trigeminal Neuralgia: A Randomized, Double-Blinded, Controlled Trial
Randomized Trial
Chengfu Wan, MD, Dao-song Dong, MD, and Tao Song, MD.
Ultrasound-Guided Block of the Axillary Nerve: A Prospective, Randomized, Single-Blind Study Comparing Interfascial and Perivascular Injections
Randomized Trial
Eung Don Kim, MD, Jung Won Baek, MD, Ji Seob Kim, MD, Su A Oh, MD, and Young Hoon Kim, MD, PhD.
The Value and Application of Personalized Needle Modification in Percutaneous Infrazygomatic Radiofrequency in Isolated Maxillary Nerve Pain through the Foramen Rotundum
Randomized Trial
Yajing Chen, MD, Qiang Zhu, MD, Bing Huang, MD, Qianying Liu, MD, Qiuli He, MD, Yibing Yao, BS, Kang An, MD, Chunyan Zhu, MD, Wei Chen, MD, and Ming Yao, PhD.