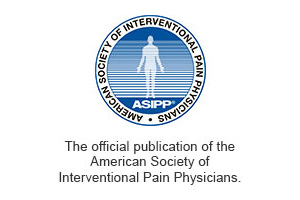 Editor-in-Chief: Alan David Kaye, MD, PhD
Managing Editor: Bert Fellows, MA
Pain Physician is the official publication of the American Society of Interventional Pain Physicians (ASIPP). The open access journal is published 6 times a year.

Pain Physician is a peer-reviewed, multi-disciplinary, open access journal written by and directed to an audience of interventional pain physicians, clinicians and basic scientists with an interest in interventional pain management and pain medicine.

Pain Physician presents the latest studies, research, and information vital to those in the emerging specialty of interventional pain management – and critical to the people they serve.
---
Epidural Guidelines Facet Joint Guidelines IPM Guidelines Regenerative Medicine Guidelines OPIOID Guidelines Risk Stratification Guideline Antithrombotic Guidelines Sedation Guidelines Triaging Guideline BMC Therapy Position Statement
Current issue highlights: (September 2022, Volume 25, Issue 6)
Risk of Suicide in Patients With Major Depressive Disorder and Comorbid Chronic Pain Disorder: An Insight From National Inpatient Sample Data
Health Services Research
Taranjeet Jolly, MD, Ramu Vadukapuram, MD, Chitan Trivedi, MPH, Zeeshan Mansuri, MD, Mahwish Adnan, MD, Steven P. Cohen, MD, and To-Nhu Vu, MD.
Cross-Sectional Study Evaluating Clinical & Psychological Impact of Limited Access to Healthcare in Chronic Pain Patients During the COVID-19 Pandemic
Health Services Research
Moez Mithani, MD, Jeremy Benhamroun-Zbili, MD, Andrew Bloomfield, MD, Kishan Sitapara, MD, Arlette Paul, NP, Singh Nair, MD, Shagun Mohan, MD, Amaresh Vydyanathan, MD, Safwan Zar, MD, and Naum Shaparin, MD.
The Predictive Value of Fear Avoidance Beliefs for Outcomes Following Surgery for Lumbar Degenerative Disease: A Systematic Review and Best Evidence Synthesis
Systematic Review
Van Bogaert Wouter, MSc, Tegner Heidi, MSc, Coppieters Iris, PhD, Huysmans Eva, PhD, Nijs Jo, PhD, Moens Maarten, MD, PhD, Goudman Lisa, PhD, Buyl Ronald, PhD, and Lundberg Mari, PhD.
The Effectiveness of Intraarticular Cervical Facet Steroid Injections in the Treatment of Cervicogenic Headache: Systematic Review and Meta-analysis
Systematic Review
Michael Appeadu, MD, Natalia Miranda-Cantellops, MD, Brittany Mays, MD, Marisa Mason-Carino, BS, John Reynolds, MLIS, Thilani Samarakoon, PhD, Teshamae Monteith, MD, and Chane Price, MD.
A Scoping Review of Chronic Low Back Pain Classification Schemes Based on Patient-Reported Outcomes
Scoping Review
Patricia M. Herman, ND, PhD, Ian D. Coulter, PhD, Ron D. Hays, PhD, Anthony Rodriguez, PhD, and Maria O. Edelen, PhD.
Comparison of Thoracic Erector Spinae Plane Block With Thoracic Paravertebral Block for Pain Management in Patients With Unilateral Multiple Fractured Ribs
Randomized Trial
Abdelraheem Elawamy, MD, Mohamed R. Morsy, MD, and Mohamed A.Y. Ahmed, MD.
Effect of Continuous Infusion of Intravenous Nefopam on Postoperative Opioid Consumption After Video-assisted Thoracic Surgery: A Double-blind Randomized Controlled Trial
Randomized Controlled Trial
Susie Yoon, MD, PhD, Hyo Bin Lee, MD, Kwon Joong Na, MD, Samina Park, MD, Jaehyon Bahk, MD, PhD, and Ho-Jin Lee, MD.
Comparison Between Corticosteroid Injection Into Coracohumeral Ligament and Inferior Glenohumeral Capsule and Corticosteroid Injection Into Posterior Glenohumeral Recess in Adhesive Capsulitis: A Prospective Randomized Trial
Randomized Trial
Sang Hoon Lee, MD, Hyun Hee Choi, MS, and Min Cheol Chang, MD.
Ultrasound-guided Retrolaminar Block Versus Thoracic Epidural Analgesia for Pain Control Following Laparoscopic Cholecystectomy
Randomized Trial
Alshaimaa Abdel Fattah Kamel, MD, Khadeja M. Elhossieny, MD, Ahmed S. Hegab, MD, and Dina Abdelhameed Elsadek Salem, MD.
Aspirin Cessation Before Interventional Procedures: Not Blindly Following Guidelines but Making Test-based Decisions
Cross-Sectional Study
Kyeong Hwan Seo, MD, Francis Sahngun Nahm, MD, PhD, Woong Ki Han, MD, Ho Young Gil, MD, Jung Eun Kim, MD, PhD, Eun Joo Choi, MD, and Pyung Bok Lee, MD.