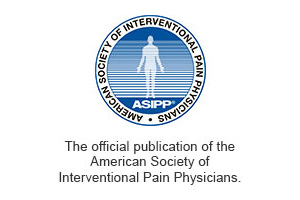 Editor-in-Chief: Alan David Kaye, MD, PhD
Managing Editor: Bert Fellows, MA
Pain Physician is the official publication of the American Society of Interventional Pain Physicians (ASIPP). The open access journal is published 6 times a year.

Pain Physician is a peer-reviewed, multi-disciplinary, open access journal written by and directed to an audience of interventional pain physicians, clinicians and basic scientists with an interest in interventional pain management and pain medicine.

Pain Physician presents the latest studies, research, and information vital to those in the emerging specialty of interventional pain management – and critical to the people they serve.
---
Epidural Guidelines Facet Joint Guidelines IPM Guidelines Regenerative Medicine Guidelines OPIOID Guidelines Risk Stratification Guideline Antithrombotic Guidelines Sedation Guidelines Triaging Guideline BMC Therapy Position Statement
Current issue highlights: (July 2022, Volume 25, Issue 4)
Ultrasound-guided Genicular Nerve Blockade With Pharmacological Agents for Chronic Knee Osteoarthritis: A Systematic Review
Systematic Review
Yeow Leng Tan, MBBS, MRCP, Edmund Jin Rui Neo, MBBS, MMed, and Tze Chao Wee, MBBS.
Superior and Middle Cluneal Nerve Entrapment: A Cause of Low Back and Radicular Pain
Scoping Review
Helen W. Karl, MD, Standiford Helm, MD, and Andrea M. Trescot, MD.
Efficacy, Safety, and Predictors of Response to Pulsed Radiofrequency Therapy for Acute Zoster-Related Trigeminal Neuralgia Patients: A Multicenter Retrospective Study
Retrospective Study
Yitong Jia, MD, Ying Shen, MD, Lan Meng, MD, Tao Wang, MD, and Fang Luo, MD.
The Role of Neuromodulation in Chronic Pelvic Pain: A Review Article
Review
Chandni B. Patel, DO, Ankur A. Patel, DO, and Sudhir Diwan, MD.
The Therapeutic Efficacy of Pulsed Radiofrequency Alone Versus a Dexamethasone and Pulsed Radiofrequency Combination in Patients With Trigeminal Postherpetic Neuralgia: A Double-blind, Randomized Controlled Trial
Randomized Controlled Trial
Min Li, PhD, Han Hu, PhD, Sheng-Xiong Tong, PhD, Shao-Jun Li, PhD, Jia-Yu Tian, PhD, Shu-Li Zhang, PhD, and Dan Feng, PhD.
Basivertebral Nerve Ablation for the Treatment of Chronic Low Back Pain: A Scoping Review of the Literature
Scoping Review
William Schnapp, MD, Kenneth Martiatu, CRA, and Gaëtan J.-R. Delcroix, PhD.
Comparison of Changes in the Optic Nerve Sheath Diameter Following Thoracic Epidural Normal Saline Injection in Laparoscopic Surgery
Prospective Randomized Trial
Ji Seob Kim, MD, Ji Hee Hong, MD, PhD, and Ji Hoon Park, MD, PhD.
Ultrasound-guided Erector Spinae Muscle Block Versus Ultrasound-guided Caudal Block in Pediatric Patients Undergoing Lower Abdominal Surgeries
Randomized Controlled Trial
Amr Nady Abdelrazik, MD, Ibrahim Talaat Ibrahim, MD, Arwa Essam Farghaly, MBBCh, and Shadwa Rabea Mohamed, MD.
Local Anesthetic and Steroid Injection to Relieve the Distal Lumbosacral Pain in Osteoporotic Vertebral Compression Fractures of Patients Treated with Kyphoplasty
Randomized Controlled Trial
Fanguo Lin, MD, Yuye Zhang, MD, Tao Wu, *, Yanping Niu, MD, Peng Su, MD, Jun Hua, MD, and Yongming Sun, PhD.
Postoperative Pain in Adolescent Idiopathic Scoliosis Surgery: A Randomized Controlled Trial
Randomized Controlled Trial
Nur Canbolat, MD, Irem Basaran, MD, Demet Altun, MD, Turgut Akgul, MD, and Mehmet I. Buget, MD.