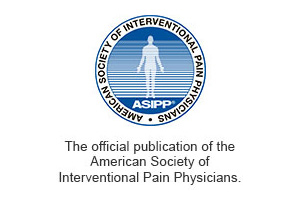 Editor-in-Chief: Alan David Kaye, MD, PhD
Managing Editor: Fellows Bert, MA
Pain Physician is the official publication of the American Society of Interventional Pain Physicians (ASIPP). The journal is published 8 times a year beginning in 2016.
Pain Physician is a peer-reviewed, multi-disciplinary journal written by and directed to an audience of interventional pain physicians, clinicians and basic scientists with an interest in interventional pain management and pain medicine.
Pain Physician presents the latest studies, research, and information vital to those in the emerging specialty of interventional pain management – and critical to the people they serve.
---
Current issue highlights: (February 2016, Volume 19, Issue 2)
Percutaneous and Endoscopic Adhesiolysis in Managing Low Back and Lower Extremity Pain: A Systematic Review and Meta-analysis
Systematic Review
Standiford Helm II, MD, Gabor B. Racz, MD, Ludger Gerdesmeyer, MD, PhD, Rafael Justiz, MD, Salim M. Hayek, MD, PhD, Eugene D. Kaplan, MD, Mohamed Ahamed El Terany, MD, and Nebojsa Nick Knezevic, MD, PhD.
A Multivariable Prediction Model for the Chronification of Non-traumatic Shoulder Pain: A Systematic Review
Systematic Review
Filip Struyf, PhD, Jacques Geraets, PhD, Suzie Noten, MSc, Mira Meeus, PhD, and Jo Nijs, PT, PhD.
Palmitoylethanolamide, a Special Food for Medical Purposes, in the Treatment of Chronic Pain: A Pooled Data Meta-analysis
Meta-Analysis
Antonella Paladini, MD, PhD, Mariella Fusco, PhD, Teresa Cenacchi, MD, PhD, Carlo Schievano, PhD, Alba Piroli, MD, PhD, and Giustino Varrassi, PhD.
MiDAS ENCORE: Randomized Controlled Clinical Trial Report of 6-Month Results
Randomized Trial
Peter S. Staats, MD, and Ramsin M. Benyamin, MD.
Randomized Controlled Study of Percutaneous Epidural Neuroplasty Using Racz Catheter and Epidural Steroid Injection in Cervical Disc Disease
Randomized Trial
Guy Yeul Ji, MD, Chang Hyun Oh, MD, Keun Su Won, MD, PhD, In Bo Han, MD, PhD, Yoon Ha, MD, PhD, Dong Ah Shin, MD, PhD, and Keung Nyun Kim, MD, PhD.
Pulsed Radiofrequency Reduced Neuropathic Pain Behavior in Rats Associated with Upregulation of GDNF Expression
Randomized Trial
Zipu Jia, MD, Hao Ren, MD, Qian Li, MD, Nan Ji, MD, and Fang Luo, MD.
Exercise- and Stress-Induced Hypoalgesia in Musicians with and without Shoulder Pain: A Randomized Controlled Crossover Study
Randomized Study
Kevin Kuppens, MSc, Filip Struyf, PhD, Jo Nijs, PT, PhD, Patrick Cras, MD, PhD, Erik Fransen, PhD, Linda Hermans, MSc, Mira Meeus, PhD, and Nathalie Roussel, PhD.
The Clinical Results of Percutaneous Endoscopic Interlaminar Discectomy (PEID) in the Treatment of Calcified Lumbar Disc Herniation: A Case-Control Study
Retrospective Study
Xu Dabo, MS, Chen Ziqiang, MD, Zhao Yinchuan, MD, Ni Haijian, MD, Chen Kai, MD, Liu Yanbin, MS, Fu Qiang, MD, and Wang Chuanfeng, MD.
Can Repeat Injection Provide Clinical Benefit in Patients with Lumbosacral Diseases When First Epidural Injection Results Only in Partial Response?
Retrospective Study
Jung Hwan Lee, MD, and Sang-Ho Lee, MD, PhD.
Percutaneous Endoscopic Lumbar Discectomy as an Alternative to Open Lumbar Microdiscectomy for Large Lumbar Disc Herniation
Retrospective Analysis
Kyung Chul Choi, MD, PhD, Jin-Sung Kim, MD, PhD, and Choon-Keun Park, MD, PhD.
Percutaneous Endoscopic Lumbar Discectomy for L5-S1 Disc Herniation: Consideration of the Relation between the Iliac Crest and L5-S1 Disc
Retrospective Analysis
Kyung Chul Choi, MD, PhD, and Choon-Keun Park, MD, PhD.
Ultrasound Guided Intercostobrachial Nerve Blockade in Patients with Persistent Pain after Breast Cancer Surgery: A Pilot Study
Prospective Study
Nelun Wijayasinghe, MBBS, FRCA, Helle M. Duriaud, RN, Henrik Kehlet, MD, PhD, DMSc, and Kenneth G Anderson, MD, PhD.
Widespread Pressure Pain Hyperalgesia in Chronic Nonspecific Neck Pain with Neuropathic Features: A Descriptive Cross-Sectional Study
Cross-Sectional Study
Ibai Lopez-de-Uralde-Villanueva, PT, MSc, Hector Beltran-Alacreu, PT, PhD, Josue Fernandez-Carnero, PT, PhD, Paula Kindelan-Calvo, PT, MSc, and Roy La Touche, PT, MSc.
Impact of Urine Drug Screening on No Shows and Dropouts among Chronic Pain Patients: A Propensity-Matched Cohort Study
Prospective Evaluation
Parthasarathy Krishnamurthy, PhD, Govindaraj Ranganathan, MD, Courtney Williams, MD, and Gulshan Doulatram, MD.