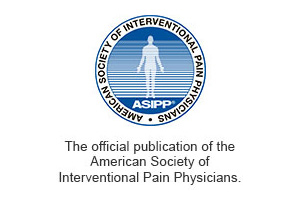 Editor-in-Chief: Alan David Kaye, MD, PhD
Managing Editor: Fellows Bert, MA
Pain Physician is the official publication of the American Society of Interventional Pain Physicians (ASIPP). The journal is published 8 times a year beginning in 2016.
Pain Physician is a peer-reviewed, multi-disciplinary journal written by and directed to an audience of interventional pain physicians, clinicians and basic scientists with an interest in interventional pain management and pain medicine.
Pain Physician presents the latest studies, research, and information vital to those in the emerging specialty of interventional pain management – and critical to the people they serve.
---
Current issue highlights: (March 2017, Volume 20, Issue 3)
Evolution of US Health Care Reform
Health Policy Review
Laxmaiah Manchikanti, MD, Standiford Helm II, MD, Ramsin M. Benyamin, MD, and Joshua A. Hirsch, MD.
A Critical Analysis of Obamacare: Affordable Care or Insurance for Many and Coverage for Few?
Health Policy
Laxmaiah Manchikanti, MD, Standiford Helm II, MD, Ramsin M. Benyamin, MD, and Joshua A. Hirsch, MD.
Does Conservative Treatment Change the Brain in Patients with Chronic Musculoskeletal Pain? A Systematic Review
Systematic Review
Jeroen Kregel, MSc, Iris Coppieters, PT, MSc, Robby DePauw, PT, MSc, Anneleen Malfliet, PT, MSc, Lieven Danneels, PhD, MSc, Jo Nijs, PhD, Barbara Cagnie, PhD, and Mira Meeus, PhD.
Comparative Effectiveness Review of Cooled Versus Pulsed Radiofrequency Ablation for the Treatment of Knee Osteoarthritis: A Systematic Review
Systematic Review
Anita Gupta, DO, PharmD, Daniel P. Huettner, BS, and Matthew Dukewich, PharmD.
Perioperative Ketamine Administration for Thoracotomy Pain
Systematic Review
Daniel W. Moyse, MD, Alan D. Kaye, MD, PhD, James H. Diaz, MD, Muhammad Y. Qadri, MD, PhD, David Lindsay, MD, and Srinivas Pyati, MD.
Comparing the Efficacy of Surgery and Medical Therapy for Pain Management in Endometriosis: A Systematic Review and Meta-analysis
Systematic Review
Shahla Chaichian, MD, Ali Kabir, MD, MPH, PhD, Adolfazl Mehdizadehkashi, MD, Khaled Rahmani, PhD, Mehrdad Moghimi, MD, and Bahram Moazzami, MD.
Bipolar Versus Unipolar Intraarticular Pulsed Radiofrequency Thermocoagulation in Chronic Knee Pain Treatment: A Prospective Randomized Trial
Randomized Trial
Ersel Gulec, MD, Hayri Ozbek, MD, Sinan Pektas, MD, and Geylan Isik, MD.
Management of Neuropathic Chronic Pain with Methadone Combined with Ketamine: A Randomized, Double Blind, Active-Controlled Clinical Trial
Randomized Trial
Flavia Karine Rigo, PhD, Gabriela Trevisan, PhD, Maria C. Godoy, MD, PhD, Mateus Fortes Rossato, PhD, Gerusa D. Dalmolin, PhD, Mariane A. Silva, PhD, Mirian S. Menezes, MD, Wolnei Caumo, MD, and Juliano Ferreira, PhD.
Platelet Rich Plasma in Musculoskeletal Pathology: A Necessary Rescue or a Lost Cause?
Narrative Review
Annu Navani, MD, Gang Li, MD, PhD, and Joshua Chrystal, DC, NMD.
Impact of Celiac Plexus Neurolysis on Survival in Patients with Unresectable Pancreatic Cancer: A Retrospective, Propensity Score Matching Analysis
Retrospective Study
Tak Kyu Oh, MD, Woo Jin Lee, MD, PhD, Sang Myung Woo, MD, PhD, Nam Woo Kim, MD, Jiyeon Yim, MD, and Dae Hyun Kim, MD, PhD.
Pain-Related Limitations in Daily Activities Following Thoracic Surgery in a United States Population
Retrospective Review
Emine O. Bayman, PhD, Richard Lennertz, MD, PhD, and Timothy J. Brennan, MD, PhD.
Complications of Lumbar Disc Herniation Following Full-endoscopic Interlaminar Lumbar Discectomy: A Large, Single-Center, Retrospective Study
Retrospective Study
Tian-Hang Xie, MD, Jian-Cheng Zeng, MD, PhD, Zhu-Hai Li, MD, Liang Wang, MD, Hong-Fei Nie, MD, Hu-Shan Jiang, MD, Yue-Ming Song, MD, PhD, and Qing-Quan Kong, MD, PhD.
The Role of Autonomic Function in Exercise-induced Endogenous Analgesia: A Case-control Study in Myalgic Encephalomyelitis/Chronic Fatigue Syndrome and Healthy People
Case Control Study
Jessica Van Oosterwijck, PhD, Uros Marusic, PhD, Inge De Wandele, PhD, MSc, Lorna Paul, PhD, PT, Mira Meeus, PhD, Greta Moorkens, MD, PhD, Luc Lambrecht, MD, PhD, Lieven Danneels, PhD, MSc, and Jo Nijs, PhD.
Dezocine Antagonizes Morphine Analgesia upon Simultaneous Administration in Rodent Models of Acute Nociception
Animal Study
Na-na Li, MS, Ya-Qin Huang, MS, Ling-Er Huang, BS, Shao-Hui Guo, MS, Maxwell R. Shen, MBBS, Chen-Ling Guo, BS, Sheng-Mei Zhu, MD, and Yong-Xing Yao, MD.
Pulsed Radiofrequency to the Dorsal Root Ganglion in Acute Herpes Zoster and Postherpetic Neuralgia
Retrospective Study
Koohyun Kim, MD, Daehyun Jo, MD, PhD, and EungDon Kim, MD.